What to know before a home consultation walk-through with Blue Nest Home
We always say no two homes are the same. So we always do a home walk-through consultation before we start a job. At this walk-through consultation we will visit the home to see the scope of your job. This will allow us to give you a clear estimate of how much the job will cost. Here are a few things to know and think about BEFORE your consultation with Blue Nest Home.
Get a realtor
If you are thinking about having an estate sale, there is a high probability that you will be selling the home that contains all the stuff also. We highly recommend that you hire a real estate agent at the beginning of the process.
Real estate agents are there to help you through the home-selling process. Clearing out the home is one of those stages. Agents can be a great help with managing your time, referring trusted professionals, and getting the most money out of the house that you can.
By hiring an agent at the beginning of the process instead of the middle, you will be on the right track immediately. Check out this list of real estate agents whose clients have used Blue Nest Home Services.
Check out our frequently asked question page
You probably have all kinds of questions about how our estate sale services work. At your consultation we will answer any questions you have. But we always suggest you check out our frequently asked questions page. This may answer a lot of the questions you have.
Don't over donate
If you have already started clearing out the home, we always caution you not to get rid of too much stuff. We can sell anything from the half-used bottles of cleaners under the sink to cars! You will want to have a good inventory of items. If you start donating, you may not have enough items for an estate sale. At your consultation we will look at both how much you need to get rid of and also what kind of items you need to get rid of. Both are important for a successful sale.
Check out some of our successful auctions
Want to know what good inventory looks like? Check out this link to some past auctions that did well. These auctions have a good variety of items and something that brings in buyers like a vehicle or a collection of similar items.
Learn more about auction profitability
Many people ask how much money they will make with an online estate sale. We can't guarantee you will make money. We can say that our average hammer price for online auctions is $8,200.00, with 80% of our clients getting a check from us.
Blue Nest Home has an average sell-through rate of 95%. That means we can sell the majority of household items in your home at an online auction, making a home sale easier. How much your auction will make depends on the amount and quality of items you have.
The goal of an estate sale/online auction is typically NOT to make money. The goal is to recoup SOME of the money it costs to clear the contents of the home. The biggest asset is the home itself. The quicker we can clear the contents and clean the home, the faster you can get your home on the market.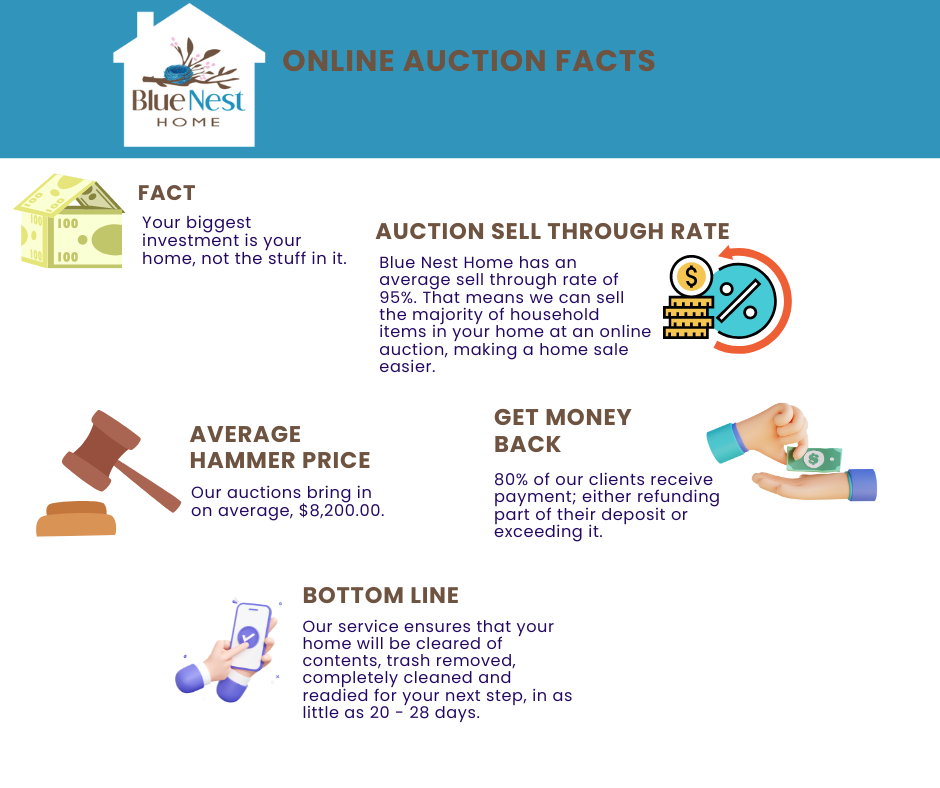 Check out what others have to say about Blue Nest Home
Don't take our word for it! Check out these reviews from past clients.
"Blue Nest helped us clean out my father's house. They did a fantastic job organizing the auction of an enormous amount of houseware goods left behind when he downsized. Then they finished the clean up of the house for us. Their services are an excellent value for the amount of work they did to clean out the house. We could rely on them without having to supervise and they took care of everything that they outlined in their free estimate."

-Dan
"My husband and I hired Blue Nest Home after my FIL moved into assisted living. We needed to get the house ready to sell and going thru all the "stuff" was overwhelming.


The Blue Nest Home crew came in, cataloged everything, took photos, placed it on an auction site, then met with the winning bidders to give them their items, and took everything else to donation, recycle with the last stop being the landfill. They deep cleaned the house so it would be show ready. And the best part — because of the auction, not only were the costs offset, we got money back. (Obviously, those results depend on the value of the items that were auctioned. I know they could never promise that the auction income would pay for the work.)


I think that if my husband and I had tried to accomplish the same thing, it would have taken months of going to the house after work hours and on weekends – the time savings was huge! Plus, the relief of handing over the key and knowing it would just be taken care of. There are no words for how important that was.
I highly recommend Sheila and Blue Nest Home!"

-Lisa
"Sheila and her team are true lifesavers! I had the pleasure of working with them to help out with two of my Great Aunts estates and I absolutely could not recommend her and her team more. Sheila always answered my calls! I am pretty sure with all of the help and crazy requests I had she never said no. She got me through this very stressful time in my life. The team was always on time, reliable, professional, straightforward and thoughtful. They took the hugest weight off my back during a time of chaos. Your team is the BEST!"

-Shannon