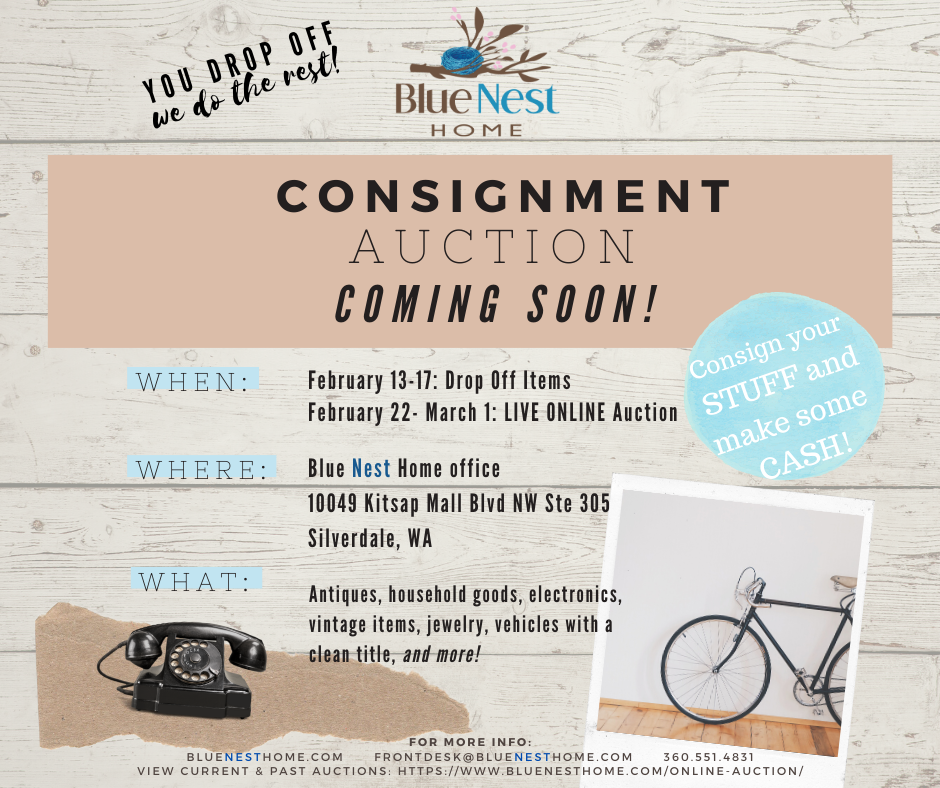 Sell with Blue Nest Home Consignment Auction
Want to make money selling stuff that you aren't using anymore? Blue Nest Home can help with that! Bring in your unused items to be sold in our online consignment sale February 13-17th.
How To Consign with Blue Nest Home
The general public is invited to bring up to 4 lots to the Blue Nest Home office February 13th-17th to consign. Drop off for lots is between the hours of 9am – 4pm. Drop off address is 10049 Kitsap Mall Blvd NW Suite 301, Silverdale, Wa 98383. This online consignment auction will be live February 22- March 1st, with buyer pick up being on March 3rd.
You will be asked to fill out a consignment seller intake form and contract, along with a detailed item description sheet. The more information that we have about your items the better. Items must be clean, in good condition and you must have the ability to bring it to our office. We do not pick up items from individual's homes.
Sellers may pick up any unsold or unclaimed items at their own expense. Any unsold or unclaimed items must be picked up by the seller by 4:00 PM on March 10th during Blue Nest Home office hours. Items remaining after this date will be donated to a local charity.
Fees to sell consignment items are 25% of the lot's hammer price . For example if your lot sells for $100 you will receive a check for $75. Checks for lots sold will be paid on or before March 22nd.
Why Consign with Blue Nest Home?
Our expert team will catalog, photograph and list your items with our online auction partner and do all the marketing. All you have to do is bring your items to us. No worries about strangers coming to your home for pick up like other selling options. No worries about how to price your item. All of our auction lots start bidding at $1.00. The market sets the price by buyers bidding against each other. Don't worry, most items do not go for $1.00, especially high end items.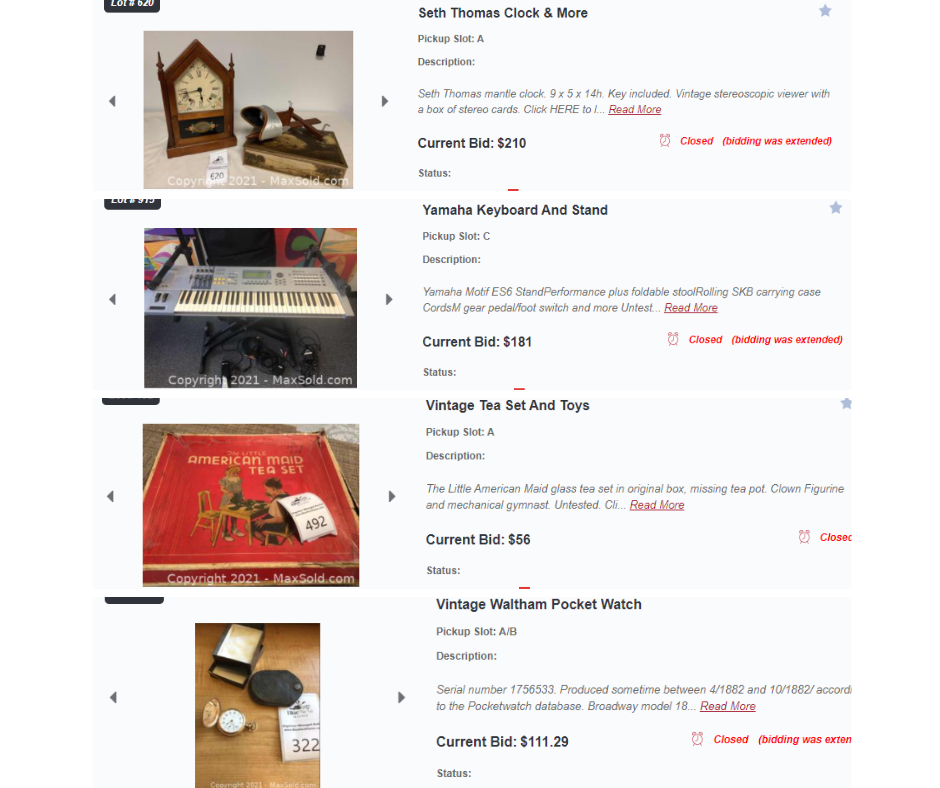 What Makes a Good Auction Lot?
The best lots are a group of like items, such as a set of dishes, a coin collection, a record collection. Also one high end item does well as a lot. For example, a Mac computer, a piece of fine jewelry, a car. Items that sell well include: high-end jewelry (especially gold and silver), newer (aka less than 5 years old) or rare electronics, vintage or retro toys, bicycles, cars, and new in package items. We recommend only considering items that are in good condition.
If you would like to sell a vehicle or a large high end item, please contact our office at 360-551-4831 to make special arrangements.
View past and current auctions at https://www.bluenesthome.com/online-auction/ to get a good idea of what items typically sell well.
We are not able to sell firearms, taxidermy animals, and high end fashion with out a receipt (Gucci, Prada, ect). We do reserve the right to not except items.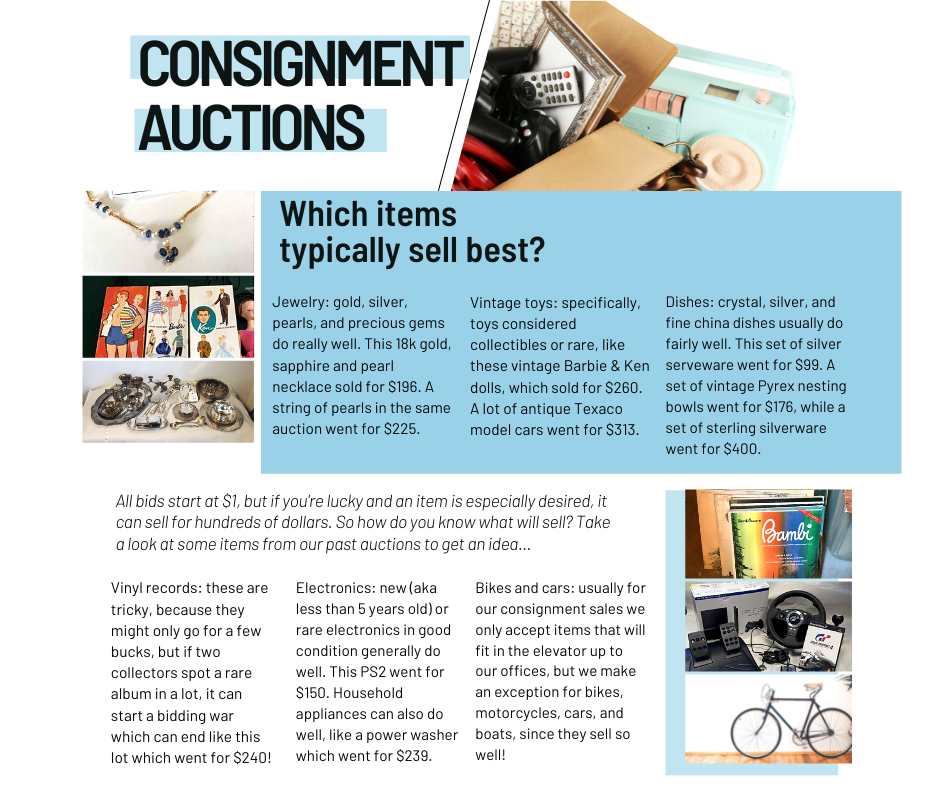 Who is Blue Nest Home?
Blue Nest Home, located in Silverdale, Washington, is a home organizing and online estate sale company.
We offer professional organizing, estate clear outs and liquidation, consignment auctions, relocation services, and online estate sale auctions to clients in Kitsap County and the surrounding areas including: Bainbridge Island, Belfair, Bremerton, Kingston, Gig Harbor, Hansville, Port Gamble, Port Orchard, Port Ludlow, Poulsbo, and Silverdale.
An organized space and schedule can renew your spirit, clear your mind, and save you valuable time each day. We know it can be stressful and time consuming to figure it all out yourself. Our Professional Organizers are just what you need. We can calm the chaos, clear a path, and tame your schedule. Book a consultation today to find out how we can change your life.