Blue Nest Home Online Auction Pick-Up Guidelines
You've just won an item in one of Blue Nest Home's online auctions. What is next? How do you obtain your items? These online auction pick-up tips can help!
Blue Nest Home has a designated day for picking up your auction items. It is the buyer's responsibility to make note of the pick-up date. You can find this information published in the online auction's item description and the pickup and shipping details section. Below are some helpful tips to make the pick-up process quick and easy.
BEFORE YOU BID ON AN ITEM
Blue Nest Home online auctions are always filled with great finds and we love when you make a bid on an item you want. With that being said, we encourage you to take the following into consideration before making your bid:
Verify that you can make the specified pick-up date that has been provided in the auction's description. Per your contract, you must pick up your items on the listed date and time provided. If you cannot make the date:

We encourage you to choose the shipping option, if applicable, for your items. Shipping is on a case-by-case basis.  There is a handling fee of $25, plus the actual shipping cost. Please message us prior to the auction pick up date and provide your shipping address.  Your card on file will be charged for the total shipping cost once the auction closes. The item will be shipped with a tracking number once payment has been made. We will not ship partial lots. It is the buyer's responsibility to take their whole lot. No refunds are given for shipped items. Items that are shipped will be mailed within 72 hours of the scheduled pick-up date listed in the auction description. Blue Nest Home will notify you if changes to the shipping schedule will need to be made.
If your items can fit in a box, Blue Nest Home will store your items for one week in our main office for a fee of $50 for the first box and an additional $25 per each additional box needed to carry your items.
Please note that if you have not made arrangements with Blue Nest Home to have your winnings shipped or stored, they will be donated.
Make sure to note the dimensions on all items won and plan accordingly for pick up. The item description will make specific notes on item dimensions, whether the item is heavy and/or if it may need packing materials. Please take all of this into consideration noting whether you may need to bring additional manpower or a different vehicle to move the items. If you find that your vehicle will not fit the item, you may want to consider one of the following options to assist you: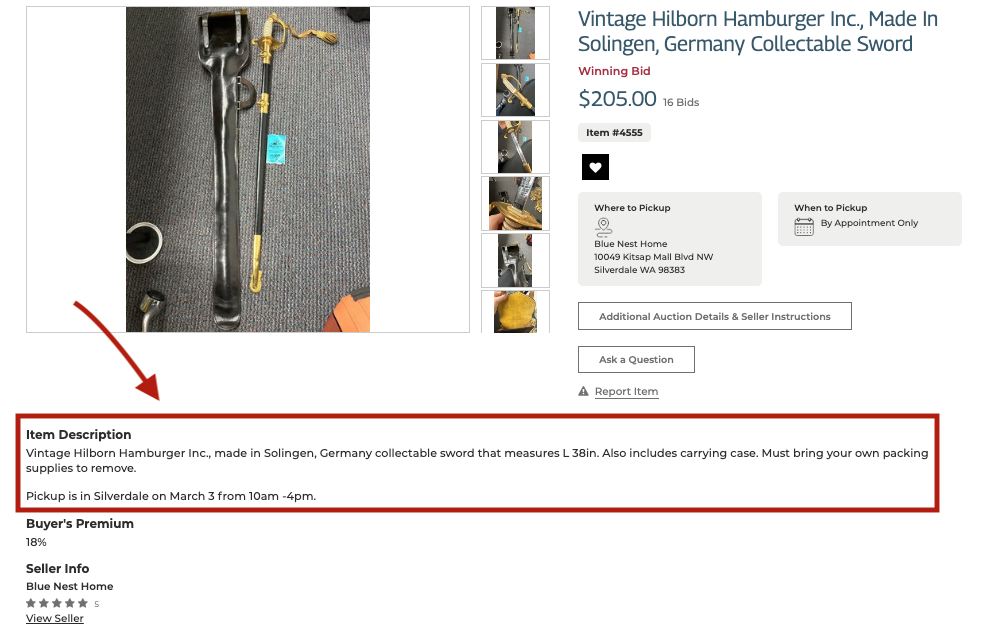 AFTER THE AUCTION CLOSES
You have just won the item you bid on! What comes next? Immediately after the online auction ends, invoices are sent to all auction winners. Your invoice is sent to the email address listed in your bidder profile. If you are expecting an invoice, and you do not see one, please:
Verify that the auction has closed by checking the auction description for the closing date and time;
Check your spam folder to see if it has been delivered there;
And if you still cannot locate the invoice, contact Blue Nest Home via the Auction Ninja messaging system, send us an email at frontdesk@bluenesthome.com or give us a call at 360-551-4831. We will be happy to assist you!
Invoices are expected to be paid immediately via the credit card winners have on file. If items are not paid for upon winning, Blue Nest Home will contact you to obtain payment.
You will also receive a separate email that will outline payment, pick-up and guidelines. If you have additional questions outside of what is listed in the email, please feel free to contact Blue Nest Home.
WHEN YOU ARRIVE TO PICK UP
It is pick-up day and we are so excited to give you the items you won. When you arrive to the provided pick-up address, you will see that Blue Nest Home has placed signage throughout the property. This signage provides ample instruction of where to go and what to do. Please review below for tips to make your pick-up go smoothly:
You must bring your invoice with you to pick-up. All buyers with invoices over $300 must be prepared to show a photo ID and invoice before items will be released. If you cannot make your pick-up and need to have an alternative person pick-up your items for you, please contact Blue Nest Home.
Locate the signage indicating where to wait in line for a Blue Nest Home team member to assist you in finding your lot. You may be asked to wait outside before entering the home. We ask that you do not locate the lot on your own or shop, touch or move other buyers' lots. We thank you for your patience, kindness and respect, as many clients are obtaining their items at the same time.
When it is your turn in line, a Blue Nest Home team member will direct you to your lot. Please check the description and/or speak with a team member to clarify which items you have purchased.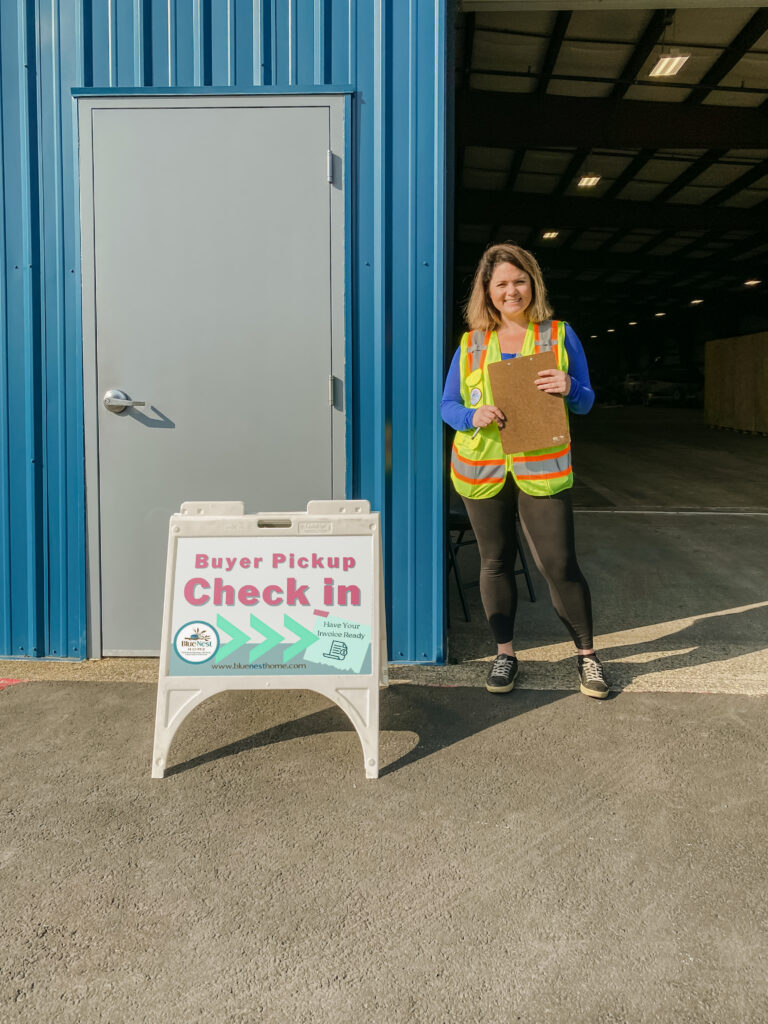 Check that you have all items purchased. There will be no refunds after you have left the pick-up site.
We ask that you work quickly due to limited space. Please no loitering.
You must be prepared with enough manpower, tools, packing materials and an appropriate vehicle space to haul all of your items. There will NOT be staff available to assist with lifting, moving or loading your items.
Unless stated otherwise in the description, buyers must remove their entire lot(s) as leaving items behind may result in a suspension of bidding privileges. 
Lastly, please respect the homeowner's property. We ask that you do not walk or drive on landscaped areas and to be careful not to damage theproperty in any way.
BONUS TIPS!
Restrooms are not available for public use at pickup locations.
Moving furniture and heavy items can be dangerous; therefore, Blue Nest Home prohibits small children and animals from being on site.
Any business unrelated to the pickup must be conducted in another location and/or outside the pickup time.
We hope this helps ease your mind of how pick-up day will go. Blue Nest Home appreciates your patronage and patience. If you have any further questions or concerns in regards to our pick-up guidelines, we encourage you to contact us.