Digital Organizing Challenge Overview
 Digital clutter not only slows down your devices but can also affect your mood and mental health just as much as a cluttered house. As we move into fall you might see your digital clutter increase with school emails, end-of-year shopping deals, and sports and event photos.
September can be a great time to do some digital clean-up before all the end-of-the-year busyness starts. We challenge you to do one or two digital clean-up tasks per week this month to clear a little bit of the digital clutter. Below you will find suggested tasks to get yourself a little more digitally organized. Make sure to check out week four. It has a free download to help you keep organized.
Week 1: Photos
September is Save Your Photos Month, so this is a great place to start. These days we have thousands of photos that live in digital form. Try out one of these tasks to make sure these images get saved for future enjoyment and don't bog down your devices.
Keep only the best photos. Delete any redundant or unneeded images. You don't need every photo you take. Deleting images can free up a lot of space on your devices.
Organize images into folders. You can choose to label folders by date or by event. By placing digital images into folders, you will be able to find them easier.
Back up your files. Digital images are easy to lose if you have a device not work anymore. Make sure you have a system to save your images on an external hard drive or on a cloud base system.
Print out your favorites. The easiest way to save photos for future enjoyment is to print them out. Paper photos can become more clutter if you are not careful. Make sure to only print out the best of the best and have a storage system in place. You can always print out a year-end book from a company like chatbooks or Shutterfly.
Week 2: Emails
Managing all the emails we get every day can become a full-time job if we aren't careful. Here are a few tips to have less clutter in your inbox.
Unsubscribe.  Whether you use an app like unrollme or manually do it, unsubscribing will cut down on digital clutter. If you have newsletters you don't read anymore or a store that you don't want to be tempted with sales, unsubscribe. Not having those emails in your inbox can clear up a lot of mental and digital space.
Delete emails as they come in. If you are like me, you check your email and just ignore anything that isn't important and now you have 37,000 unread emails. Now that I am trying to get rid of digital clutter getting rid of these emails is a big priority. Make sure to delete emails that are not needed as they come in. This simple task can make a big difference.
File for future reference. Any emails that you have responded to and no longer need but want to keep for future reference should be filed in a system that makes sense to you. Most email services have a file or archive system to use for this. Take the time to set up this system and file those emails.
Week 3: Apps
Notifications on phones add up so quickly, that it can be overwhelming. Plus, unused apps can really bog down devices. Try one of these or all to cut down the clutter on your smartphone.
Delete apps that you don't use. Take a few minutes to delete those apps. They are just slowing your device down.
Unsubscribe to services. Do you have app subscriptions that you are not using anymore? Save money and clear the clutter. Take time to unsubscribe from these services.
Unfollow. Our social media feeds can become cluttered too. Take the time to unfollow businesses, groups, and people that you don't want to see in your feed anymore. This can be really helpful for your mental health.
Week 4: Computer
Today we spend a lot of time on our phones, so don't forget to declutter your laptop or desktop. The three spaces below get cluttered very easily, make sure to take time to clear them out.
Clear out downloads. Check your download folder and send anything you don't need anymore to the trash can.
Delete old bookmarks. Old bookmarks can really add up. Go through and delete bookmarks you don't need anymore or broken links.
Clean your desktop. If all your files live on your desktop you will never find anything. Take the time to put files in folders. If you need important documents on your desktop, use a desktop background like the one below to organize your documents. Click the download button to get this one free.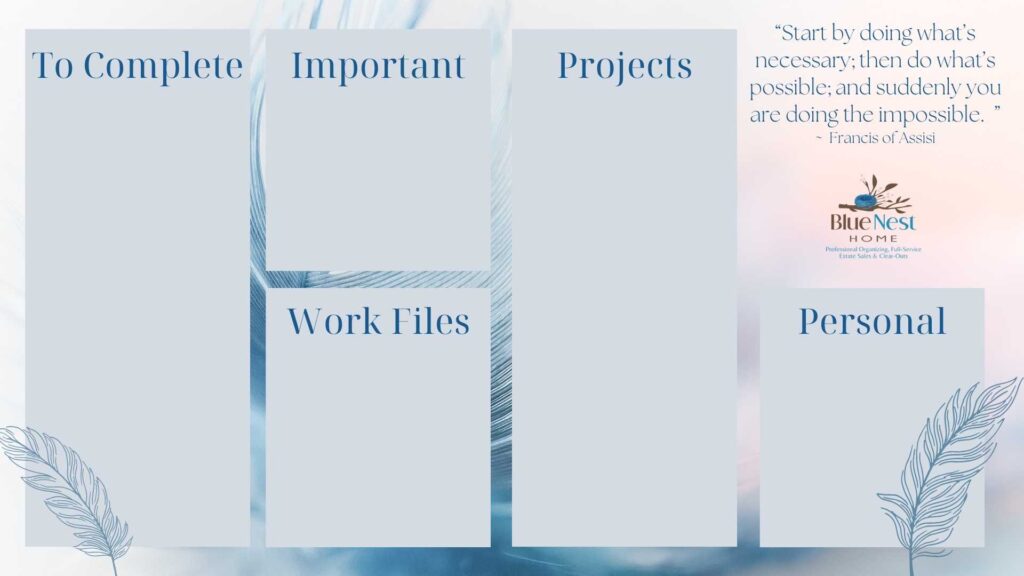 Quick tips to stay organized and keep the digital clutter down.
If you don't need it, delete it.
Name documents to make them easy to find.
Place documents into folders
Delete emails daily.
Remember that having systems that work for you is the way to keep clutter, digital or otherwise at bay.
Blue Nest Home, located in Silverdale, Washington, is a home organizing and online estate sale company.
An organized space and schedule can renew your spirit, clear your mind, and save you valuable time each day. We know it can be stressful and time consuming to figure it all out yourself. Our Professional Organizers are just what you need. We can calm the chaos, clear a path, and tame your schedule. Book a consultation today to find out how we can change your life.
Follow us on our social sites.