Here at Blue Nest Home, we love collaborating with other professionals who help people move on to the next phase of life, just like we do. Whether you are a real estate agent, an estate lawyer, or some other profession that helps seniors transition we would love to help you, help your client.
At the beginning of 2022, Blue Nest Home worked with Rod Blackburn from Bremerton Real Estate Company and his client. Rod's client needed help clearing out his home and moving after the death of his husband. Recently we sat down with Rod and asked him about his experience with Blue Nest Home. Below are a transcript of his answers.
Interview with Rod Blackburn from Bremerton Real Estate Company.
Hi Rod, would you mind sharing a little bit about you and your business?
Hello, I'm Rod Blackburn the designated broker and owner of Bremerton Real Estate Company. We are your Bremerton-based, Bremerton-focused realtors. I'm in my 23rd year specializing in Bremerton residential real estate. I would love the opportunity to help you meet and even exceed your real estate goals.
How did you use Blue Nest Home services?
My friend and client called Blue Nest Home services when his husband, an avid collector with multiple collections. Collections which filled the bedrooms, the living room, the dining room, the kitchen, the garage. When he died suddenly, my client was overwhelmed by the situation and all the stuff. Blue Nest Home took care of all the stuff and gave my client and friend the emotional space he needed to take care of the regular things you have to take care of when there is a death in the family. Blue Nest helped him move on in a loving and caring way.
How did Blue Nest Home make a difference in your business?
Bremerton Real Estate specializes in a superior concierge service for our clients. Sellers hire us to coordinate the best possible presentation of their product, their house, in today's marketplace. We have high standards. When Blue Nest was finished, I had a property that we could make into a product that was warmly received in the marketplace. They gave me a clean vacant house. I mention the collections, right? Stuff falling out of closets, a room that was impossible to enter, garage packed to the rafters. I could then concentrate on detailing and staging, painting, and cosmetic repairs, etc. We were able to finish all of that in less than a week, thanks to Blue Nest. I just can't imagine how our process would have been different had they not been involved.
What about Blue Nest Home were you most impressed with?
I was most impressed with the love and caring with which Blue Nest Home helped my friend transition to his new life.
What surprised you about Blue Nest Home services?
I was surprised that there were no surprises. This was my first time working with them and all the expectations were expertly managed, all the promises were kept, dates and deadlines were met with no problem.
What would you say to a colleague about Blue Nest Home?
Call them! Their number is 360-551-4831. You'll be glad you did.
Thanks for your time and feedback Rod! We appreciate your opinion. If you are in the market to buy or sell a home in the Bremerton area you can contact Rod at 360-509-7042 or visit his website at https://www.realbremerton.com/.
Here are a few before and after images of the house we worked on for Rod and his client. Staging photos are courtesy of Real Estate Media, NW.
Before and After Photos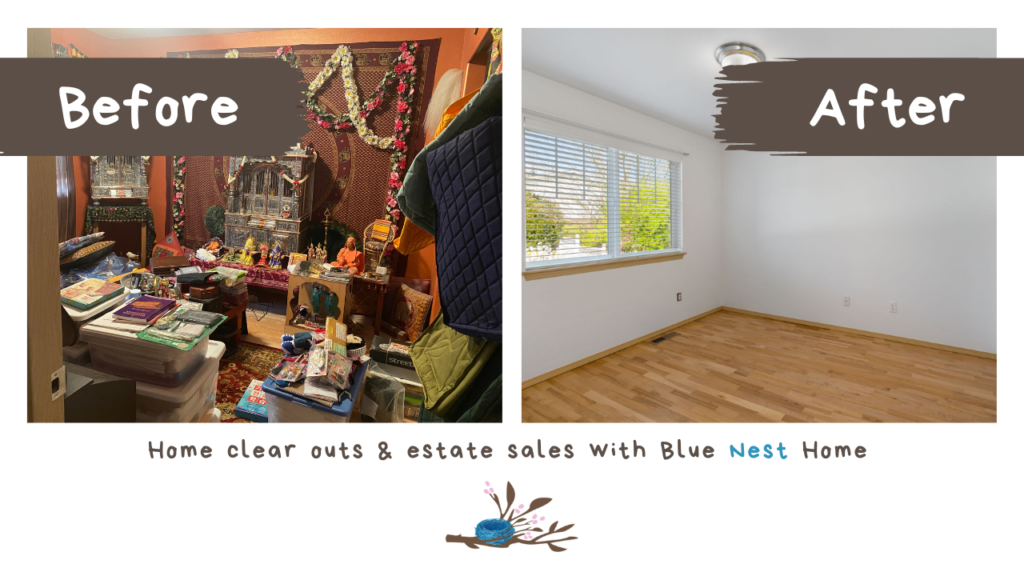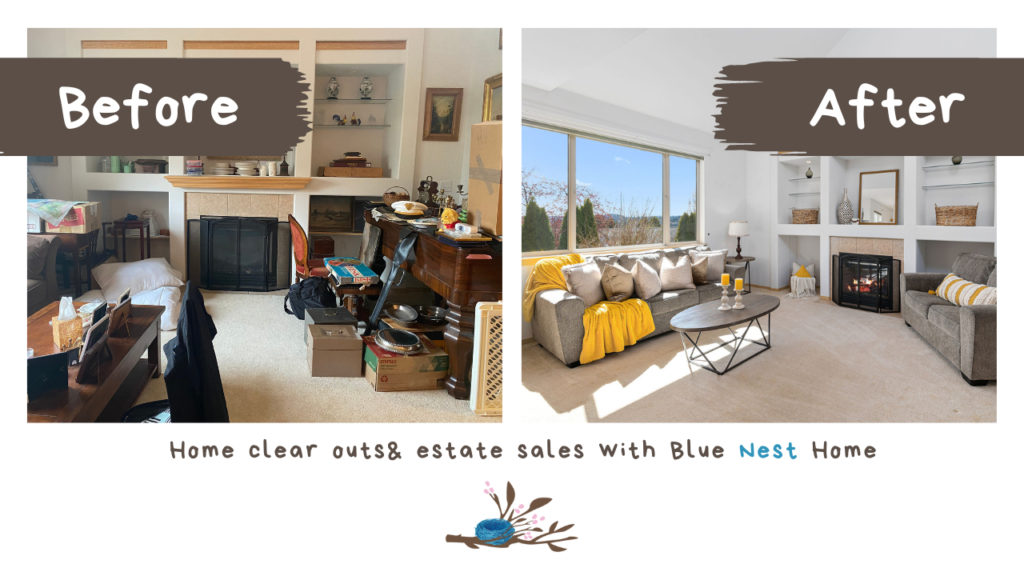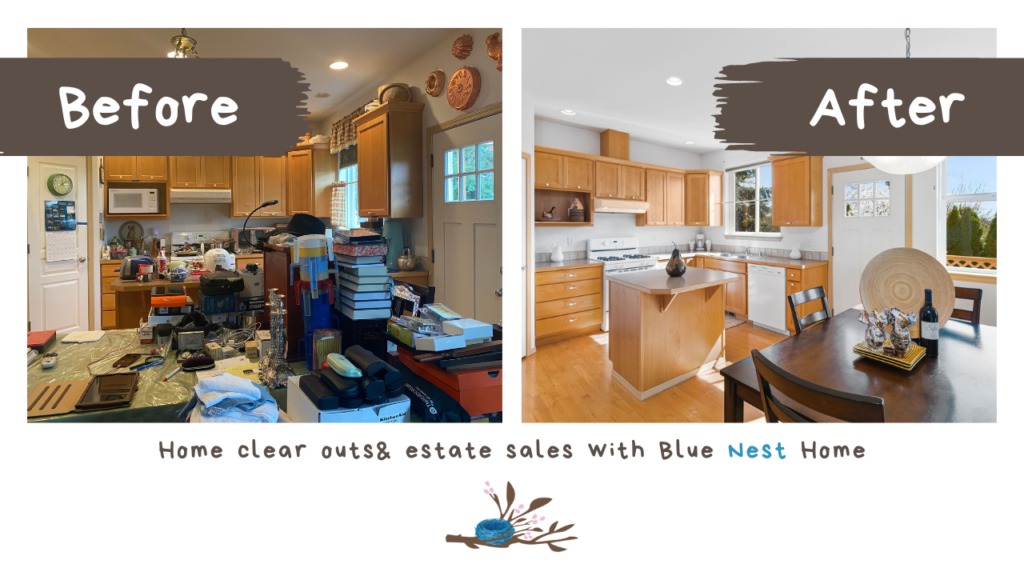 Blue Nest Home, located in Silverdale, Washington, is a home organizing and online estate sale company.
We offer professional organizing, estate clear outs and liquidation, consignment auctions, relocation services, and online estate sale auctions to clients in Kitsap County and the surrounding areas including: Bainbridge Island, Belfair, Bremerton, Kingston, Gig Harbor, Hansville, Port Gamble, Port Orchard, Port Ludlow, Poulsbo, and Silverdale.
An organized space and schedule can renew your spirit, clear your mind, and save you valuable time each day. We know it can be stressful and time consuming to figure it all out yourself. Our Professional Organizers are just what you need. We can calm the chaos, clear a path, and tame your schedule. Book a consultation today to find out how we can change your life.