Blue Nest Home is coming to Mount Ayr Iowa!
Edit: Max E. Smith Estate/Moving sale in Mount Ayr Iowa is now open. This online auction runs October 25th – November 2nd. See this auction and bid here : https://www.auctionninja.com/blue-nest-home/sales/details/estate-moving-sale-in-mount-ayr–1.html . Pick up is in Mount Ayr on November 5th 11am-4pm.
All lots start at $1.00. If you have any questions about the auction or how to bid please call the Blue Nest Home office at 360-551-4831.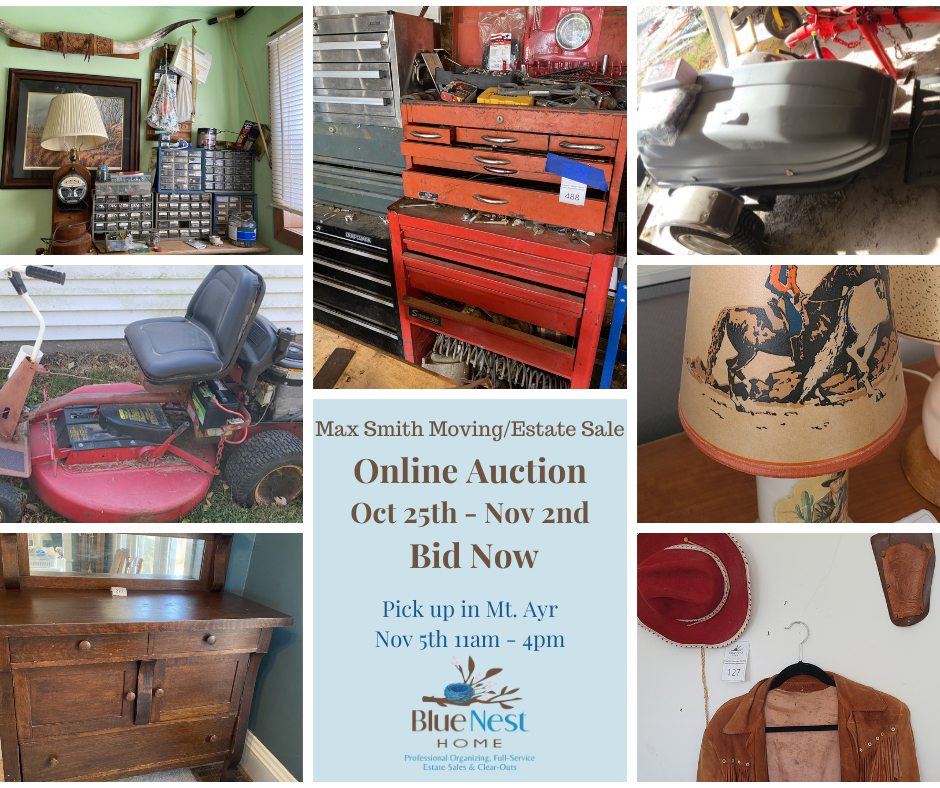 ---
Coming soon is the estate /moving sale for Max E. Smith of Mount Ayr Iowa. The sale will run October 25th- November 2nd and will feature home and garage items, plus electrical parts, tools and equipment.
Link to register and bid will be found here when the auction is up and running. Please check back on October 25th if you are interested in this sale. Pick up for the items will be in Mount Ayr Iowa on November 5th.
Items will not be for sale outside of the auction. Please do not contact Max or family members to purchase or see items in advance.
Blue Nest Home is based out of Silverdale Washington. Blue Nest Home owner, Sheila Perreault, is Max Smith's daughter and was born and raised in Mount Ayr. The Blue Nest team will be in town cataloging and organizing for Max's sale the week of the 17th.
If you have any questions please call the Blue Nest Home office at 360-551-4831 Mon- Friday 9:00 am- 4:00 PM PST.
Blue Nest Home, located in Silverdale, Washington, is a home organizing and online estate sale company.
We offer professional organizing, estate clear outs and liquidation, consignment auctions, relocation services, and online estate sale auctions to clients in Kitsap County and the surrounding areas including: Bainbridge Island, Belfair, Bremerton, Kingston, Gig Harbor, Hansville, Port Gamble, Port Orchard, Port Ludlow, Poulsbo, and Silverdale.
An organized space and schedule can renew your spirit, clear your mind, and save you valuable time each day. We know it can be stressful and time consuming to figure it all out yourself. Our Professional Organizers are just what you need. We can calm the chaos, clear a path, and tame your schedule. Book a consultation today to find out how we can change your life.