Tell Your Family Caregiver Story and Enter to Win a Pampering Prize Pack
Because many of Blue Nest Home's clients are in their senior years, we work with many family caregivers.
Family caregivers are not health care workers but are loved ones or close friends who provide a broad range of assistance to older adults or adults with chronic conditions. A family caregiver's roles vary from taking a loved one to the doctor or grocery store to helping with grooming or managing money. These people are quite often the ones who deal with the estate once the loved one has passed away.
Caregivers have an important role in their families. In some situations, caregiving can take quite an emotional and financial toll on the caregiver. But at the same time caregiving can also bring families closer and give the caregiver the peace of mind that their loved one is being well taken care of.
Because of the huge role they play in the lives of others and because of the sacrifices they make, Blue Nest Home would like to celebrate local family caregivers.
November is national family caregiver month. During the month of November, Blue Nest Home would like to spotlight Kitsap County family caregivers by sharing thier stories. We are asking Kitsap County residence to submit their family caregiver story. Submited family caregiver stories will be featured on the Blue Nest Home blog and social media sites during the month of November. One lucky family caregiver will be randomly chosen to win a prize package that includes an organizing session from Blue Nest Home, a massage with Maria Cox MTP, plus a gift certificate to a Kitsap County restaurant.
How to Nominate a family caregiver to win a pampering prize pack
Be a family caregiver or know a family caregiver who lives in Kitsap County.
Fill out the below form by November 12th to share the family caregiver story and enter the family caregiver in the drawing to win the Blue Nest Home pampering prize pack.
Family Caregiver Nomination Form
Family caregivers are welcome and encouraged to submit their own stories. Family caregiver stories will be shared starting November 1st. The last day to submit a family caregiver story is November 12th 2022. The random winner of the prize pack will be drawn on November 30th . All winners will be notified by December 2nd 2022.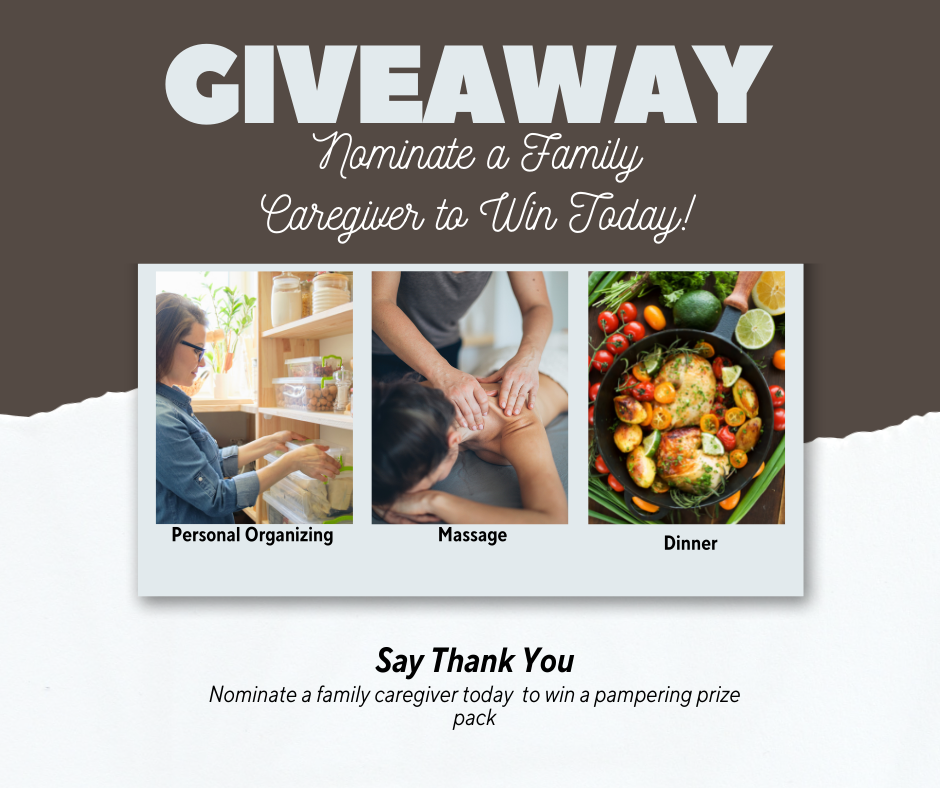 Blue Nest Home, located in Silverdale, Washington, is a home organizing and online estate sale company.
We offer professional organizing, estate clear outs and liquidation, consignment auctions, relocation services, and online estate sale auctions to clients in Kitsap County and the surrounding areas including: Bainbridge Island, Belfair, Bremerton, Kingston, Gig Harbor, Hansville, Port Gamble, Port Orchard, Port Ludlow, Poulsbo, and Silverdale.
An organized space and schedule can renew your spirit, clear your mind, and save you valuable time each day. We know it can be stressful and time consuming to figure it all out yourself. Our Professional Organizers are just what you need. We can calm the chaos, clear a path, and tame your schedule. Book a consultation today to find out how we can change your life.