February is Declutter for a cause month!
Declutter your house and feel great knowing that your unwanted stuff is helping someone else.
Why declutter?
Losing objects in your home can be very frustrating. Having drawers or closets that have objects falling out of them can be dangerous. Clearing out those unwanted or unused items from your home can reduce stress and anxiety and make your home safer. It can even boost your productivity and creativity by giving you more physical and mental space.
Decluttering for a cause also diverts hundreds of tons of garbage from landfills each year. When you donate instead of throwing items away you are helping others and the planet.
Make sure your decluttered items are donation ready
Before you donate, make sure your items are donation ready. Items that are dirty, wet, moldy, badly worn or broken belong in the dump. They should not be donated*. Make sure clothes and textiles are clean and fragrance-free before taking them to be donated. Also, make sure the cause you are donating to takes the type of items you are looking to get rid of. Some types of furniture, electronics, or home appliances may not be taken by certain organizations. When in doubt, call them before you bring the item to their location.
*The Goodwill will take donations of badly worn or torn textiles as rags to be recycled, but not resold. They should be kept separate from other donations meant to be resold.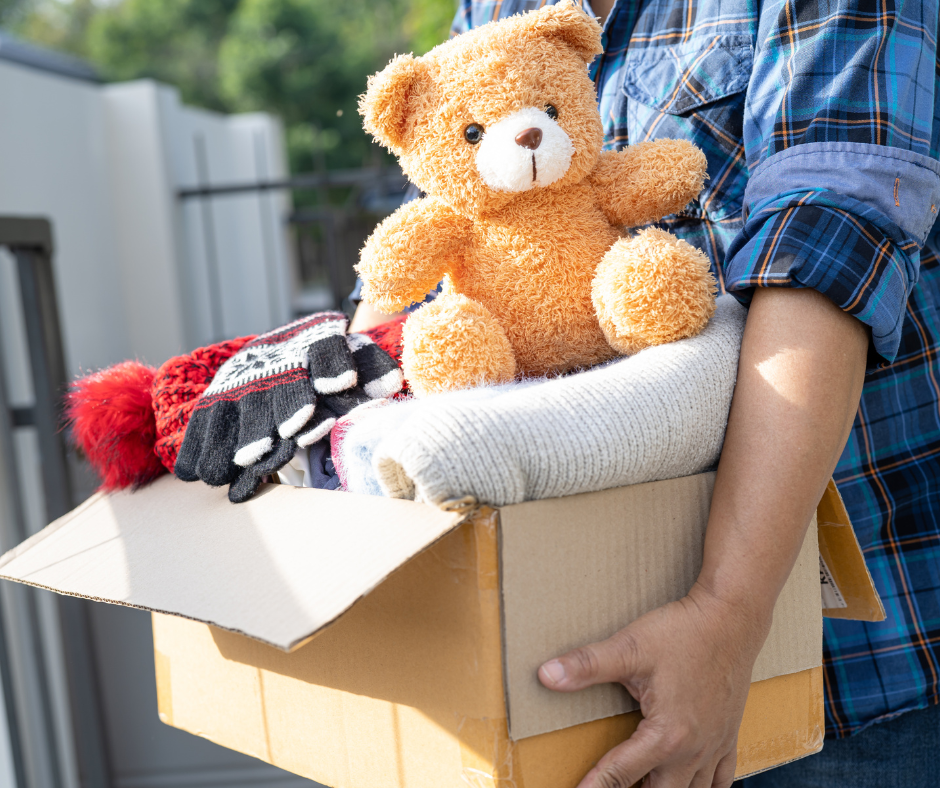 Where to donate
Where to donate your decluttered items can be determined by multiple factors including location, what objects are taken, and your connection to their cause. Listed below are some causes to consider donating to that are in Kitsap County or surrounding areas.
Tacoma Tool Library
https://tacomatoollibrary.org/donate/
Mission:
"The Tacoma Tool Library improves quality of life in the South Sound by providing tools, education, space, and support to cultivate self-sufficiency while reducing waste. Your donation helps us develop neighborhood resiliency, reduce unnecessary consumerism, and empower individuals to build the change they want to see in the world."
What they take:
They accept large donations of general tools, with two exceptions: 1. No gas-powered tools, and 2. No stationary tools (large tools that are not portable).
Seattle Creative
http://www.seattlerecreative.org/material-donations
Mission:
"Seattle ReCreative is a 501c3 non-profit located on the traditional land of the first people of Seattle, the Duwamish People past and present, and honor with gratitude the land itself and the Duwamish Tribe.
We collect donations of used materials that would otherwise end up in a landfill from local businesses and individuals to redistribute to our community. Proceeds from the resale of these goods helps fund our arts programming and supply free creative materials and workshops to the community."
What they take:
Craft and art supplies. They have a long list of what is and isn't taken. They also ask that you email them before donating. Check out the Seattle ReCreative website for all the details.
Goodwill
Mission:
"Every day we do our best to connect people with the jobs, services and skills they need. Evergreen Goodwill provides quality, effective employment training and basic education to individuals experiencing significant barriers to economic opportunity. Because Jobs Change Lives."
What they take: The items taken can change from location to location. Check before you bring in furniture or appliances, some locations will not take these items.
In general, most household and clothing items can be donated. They do not take household cleaners, dangerous items, large appliances, automotive waste, building materials, or restrictive items.
Habitat for Humanity
https://www.habitat.org/restores/donate-goods
"Habitat ReStores are home improvement stores that accept small and large donations of new or gently used furniture, appliances, housewares, building materials and more. Proceeds from the sales of these items help Habitat's work in your community and around the world."
"The money raised by Habitat ReStores helps families build a decent and affordable place to call home. When the items you donate to ReStore are sold, the money helps families achieve the strength, stability and independence they need to build a better future."
What they take: Small and large donations of new or gently used furniture, appliances, housewares, building materials and more. Each store is different. Contact the nearest location for their hours and more details about what they can take.
The Arc of Peninsulas
https://thearc.org/chapter/the-arc-of-peninsulas/
"Since 1938, The Arc of the Peninsulas has provided services locally to tens of thousands of individuals with developmental disabilities and their families throughout the Olympic Peninsula region. We have tirelessly promoted the acceptance and inclusion of people of all abilities, advocated for the most current research-based improvements, and opened new doors in helping people achieve a lifetime of success."
What they take: gently used clothing and housewares, which can be placed in their bins that are located around Kitsap County. They do not accept furniture and many other items. Please check the website for what can and cannot be donated. They do offer local pick up.
Georgia House
https://www.gmweaverfoundation.org/get-involved/
"The Georgia Mattson Memorial Shelter is a 501 (c) (3) organization and is managed by The Weaver Foundation. Low-income homeless and women who have experienced domestic violence are helped through our program."
You can help the Georgia House shelter by donating new in-the-box items that are on their wish list. Please check their website or call ahead to see items that are needed at the shelter.
Fishline Second Season
https://fishlinehelps.org/get-involved/second-season/
Second Season is a resale shop located in Poulsbo Village. All profits from the store go directly to Fishline Foodbank whose mission is to be a "​hub that provides food and access to resources that offer stability, improve health and well-being, and help people onto a path to self-sustainability."
What they take: clothing, housewares, home décor, and accessories. They do not take furniture, large items or children's toys. See their website or call to verify when and what they are currently taking for donations.
American Cancer Society Discovery Shop
https://www.cancer.org/involved/donate/more-ways-to-give/discovery-shops-national/washington-discovery-shops/silverdale.html
"The Silverdale Discovery Shop location provides unique, quality, upscale resale merchandise at affordable prices. Items are donated by the community to support the mission of the American Cancer Society to save lives, celebrate lives, and lead the fight for a world without cancer. Proceeds raised from the sale of donated merchandise are used to help fund cancer research and local programs and services."
What they take: gently used clothing accessories, jewelry, art, antiques, collectibles, and other household items.
How Blue Nest Home can help you declutter
If the idea of decluttering is just too overwhelming or you have too many items that donation is not a reality, Blue Nest Home can help.
We believe that everyone deserves a safe and comfortable place to live and work, our trained organizers guide our clients to achieve and keep the organized space they always dreamed of.
Blue Nest Home provides professional organizing services, full-service estate sale services with move-out cleans, hoard cleanouts, move management, and more. Blue Nest Home has been featured on A&E's hit show HOARDERS! three times.
If you are ready to start your decluttering journey, contact us today.